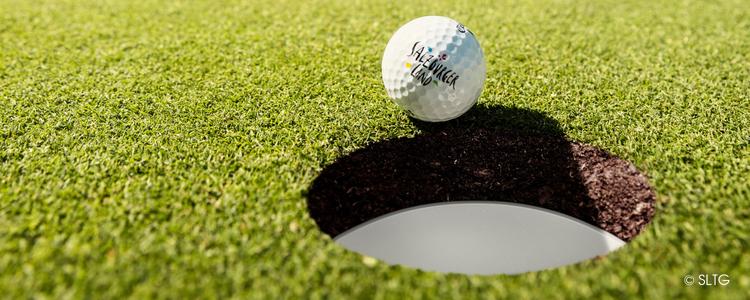 Golf is the most beautiful pastime in the world. At least that's what we golfers think. And that's why it was and is so difficult to refrain from golf in these troubled times. Sitting at home in the midst of the Corona pandemic instead of swinging a club out on the course. But golf can play an important role then, when we eventually return to some semblance of normalcy. And on that day x, we all want to be as prepared as possible.
A crisis, says Dr. Thomas Wörz, is also an opportunity for athletes to come back even stronger. Wörz should know. He is a sports scientist, psychotherapist and book author. He used to be a successful competitive athlete himself, competing in the four-man bobsled at the 1988 Winter Olympics in Calgary, among other events. In the meantime, many top athletes rely on his expertise. For example, Wörz prepares skiers and golfers for challenges and competitions. In the Golf Alpin interview, he reveals how we come out of the golf lockdown well prepared.
Dr. Wörz, we are living in difficult times right now. Are mental coaches and sports psychologists more in demand than usual as advisors and listeners at the moment?
Dr. Thomas Wörz: In general, I wouldn't say that. Collaboration runs differently in these times, increasingly in online coaching. But I work primarily with top athletes. For them, little has changed even in pandemic times. They were allowed to train and had their competitions. For athletes who haven't been allowed to compete for a long time and can't realize themselves, motivational issues become more apparent.
That brings us to the golfers. The courses were closed in the lockdown, then winter came. Many athletes complain that they lost their training goal due to the long break. What's the best way to keep up motivation in this uncertain phase?
Wörz: Such a crisis is also an opportunity. Because the competition is getting less. There are people who suffer greatly as a result. This lowers their self-esteem, they lose confidence in their own strengths and thus lose touch with the top. Sure, it's a patience game. But there are still many areas that can be trained. For example, athletics, coordination and mental techniques. You can work on deficits in these areas that you tend to neglect during normal competition time. You can work specifically on strengths and weaknesses.
Do you have any specific tips on this?
Wörz: One possibility is to confront yourself mentally with difficult challenges. For example, visualizing golf courses and fairways and thinking of strategies. Basically, it's important to stay creative and on the move during this phase. Don't let it get you down!
#comebackstronger has become quite common when athletes encourage each other on social media. Especially after injuries. How do I actually come back stronger?
Wörz: Such interruptions do indeed contain something positive. You are forced to recover and give your body and mind a break. I know many who came back from injuries stronger than before. That's also because after such a break you don't have any great expectations at first, the great pressure is gone, you can actually only surprise. It also contributes to further development to analyze disruptive factors and mentally play through strategies. At Corona, too, it's the creative people who work on themselves and take off. It's always up to you.
And if the mental coach himself goes on the round, what is the most positive and important quality to bring home a good result? One apart from good technique and appropriate training ...
Wörz: Basically, it's the philosophy: new stroke, new game. Every ball, no matter where it lies, is to be regarded as its own entity. If I leave this philosophy, I may think too far ahead. Then I get into score thinking and that puts me under pressure. With my thoughts, I am then more in the result, that is, in the future. But it is the great art to stay in the here and now.
Many golfers are led to start adding up net points at some point after ten or eleven holes in betting matches. A big mistake, right?
Wörz: Yes, but there are also other factors. The aforementioned playing philosophy also requires that I am able to complete each shot mentally. Most golfers have the problem that they take the anger and disappointment after a bad shot or the joy and euphoria after a good shot into the next shot. But joy and anger cost a lot of energy. That's because emotions control us. Joy basically makes us faster. What happens then? I prepare myself less precisely for the next shot and can't wait for it to continue. Preparation is significantly reduced, careless and sloppy. Disappointment, on the other hand, slows down. In this case, I have to push myself internally to get back up to speed. Otherwise, I quickly slip into a negative cycle and become a victim.
So, to exaggerate, only the golfer who does not allow emotions is successful?
Wörz: No, I wouldn't say that. If you've hit a good shot, you're allowed to be happy. But afterwards you should take a deep breath - and refocus. The best golfer is the one who - with good technical and athletic conditions - consistently follows his routine over 18 holes, shot after shot. The one who takes advantage of the break between shots, switches off mentally for a moment and then refocuses. We have taken a lot of measurements in the past. And it has shown: The world class is characterized by the fact that the routine before a stroke is constant over time, for example, in the long game. Even in extreme pressure situations. That is an immense art in itself.
But what do I do when I'm already anxious and unsure going to the next tee?
Wörz: Then they look for certain mental tools that they incorporate into their preparation.
Namely?
Wörz: The routine before the stroke always starts with a certain marker. For example, with taking a breath and visualizing the target. You imagine the trajectory. Two or three characteristics of how your swing should be. For example, loose and liberated. You try to implement this already in the test swing. The important thing is to make it big, shoulders back. The simplest mental technique for creating a good mood and self-confidence is to walk across the course in an upright, relaxed manner, regardless of your emotional state. Body language plays a significant role. And there is the trick of the decision line. If I cross that line, I'm ready to do it. No ifs, ands or buts. Many golfers go to the ball full of doubt and uncertainty. The best example of this is teeing off on an island green. You need an inner synchronization between brain and body, so it's exactly this decision line. I have observed and interviewed world-class athletes for over 30 years. I wanted to know what goes through their minds before they start or tee off. Those who are not successful say: The pressure was great. They would have preferred the whole thing to be over before it even started. So they mentally escaped from the situation. The successful ones, on the other hand, say they also had pressure and stress. But at the moment of takeoff or tee-off, they say they were determined to take on the challenge right now. Determination in thinking has a favorable effect on our nervous-muscular system. Therefore: self-confident and purposeful. That is the big difference.
BOOK TIP: Dr. Thomas Wörz, The Mental Attitude, 3rd edition
In his book, the author explains in a coherent way how the optimal performance state can be established in the most diverse areas of life, how body and mind can merge into one.